Muntanyes d'Alacant
The districts of Marina Alta, Marina Baixa, l'Alcoià and El Comtat contain a significant nucleus of sites portraying Rock Art. The northern part of the province, between the Serra de Mariola to the west and the Mediterranean Sea to the east, and bordered to the north by Serra del Benicadell and Serra de Aitana to the south, host a good number of sites in Levantine and Schematic styles, as well as so-called Marcroschematic Art. The area covers the Nature Reserves of Serra de Mariola, Font Roja, the Penyal d'Ifac and El Montgó. This territory holds a large concentration of sites between the coast and the interior, among which the sites of Abric de la Caputxa (Dènia), Barranc de l'Infern (Vall de Laguar), Pla de Petracos (Castell de Castells), Coves de Santa Maira (Castell de Castells), Cova del Mansano (Xaló), Barranc de Benialí I and II (Vall de Gallinera), and La Sarga (Alcoi, Alacant) – among others – are worthy of note.
There are currently two main centres in charge of the Rock Art in this area: the Pla de Petracos (Castell de Castells) Information Centre and the Museu Arqueològic Municipal Camil Visedo i Moltó (Alcoi).
The Petracos Site has an Information Centre in Castell de Castells, administered by the Town Council and the Alicante County Council through MARQ (Museo Arqueológico de Alicante). The set includes a total of 8 shelters in the area known as Pla de Petracos. Most of the representations belong to the aforementioned Macroschematic style, first identified in this location. Among the different compositions we can find human figures and geometric motifs (large-scale meandering and serpentine shapes). Petracos is believed to be a sanctuary of the first farmers and shepherds, around 7500 years ago.
The La Sarga site is situated at the head of the Barranc de la Foradà (mountainous terrain of La Serra dels Plans), in the grounds of the Masia de La Sarga (Alcoi, Alicante). It is comprised of three shelters in which three artistic styles can be observed: Macroschematic, Levantine and Schematic. In the first shelter we can see a group of wounded deer, beautifully executed in Levantine style, and superimposed on Macroschematic motifs. In the same shelter and also of Levantine design it is possible to distinguish two trees – a motif depicted only rarely – and various human figures in what has been interpreted as a scene of flogging. In the second shelter there is a very large, Macroschematic anthropomorphic form, notable for the two horns protruding from its head; and also various meandering designs. Visits to these shelters are arranged by the Museu Arqueològic Municipal Camil Visedo Moltó d'Alcoi.
Nature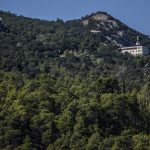 Parque natural de Serra de Mariola y el Carrascar de la Font Roja